Tron (TRX) prices drop 3.5 percent
Platform registers new dApp DAU highs
Tron's superior dApp count and DAU is the reason why Misha Lederman, the network's advisor of the Dapp Evolution Ecosystem is upbeat. Regardless, TRX prices are under pressure but technically bullish above 3.1 cents.
Tron Price Analysis
Fundamentals
Misha Lederman is a Tron and TRX bull. He's an ardent supporter as well a certified protector of the network. While Justin Sun has his fair share of criticism, what Tron represents and strive for cannot be dismissed. Adopting a delegated proof of stake consensus algorithm and introducing super representatives, their network is scalable and fast.
However, Tron's value proposition lies not in their throughput but their TVM. Launched less than three quarters ago, it is compatible with Ethereum's, and the icing on the cake is perhaps their irresistible offers. Because of that and incentives as Tron Arcade, for example, some projects did shift camps, migrating from Ethereum and settling for speed and scalability.
Add that to the successful acquisition and tokenization of BitTorrent, and it is not hard to see why Misha is optimistic. In his latest tweet, he said Tron's superior dApp and daily active user count is a testament enough of their superiority over competitors and that the platform's potential is only beginning to show.
Candlestick Arrangement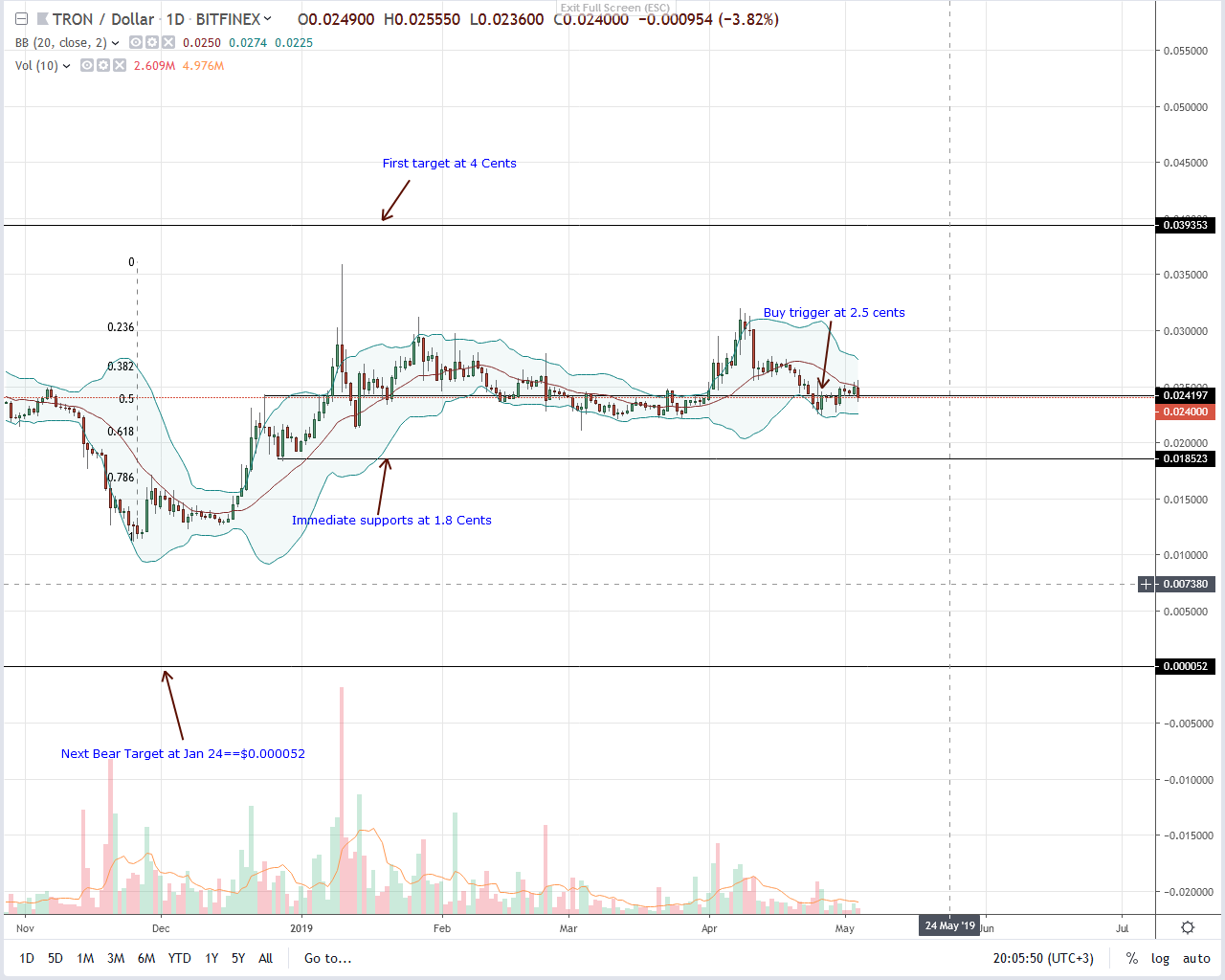 Nonetheless, Ton (TRX) is under pressure, dropping 3.5 and 4.3 percent in the last day and week. All the same, technical candlestick arrangements are supportive of bulls.
From our previous TRX/USD trade plan, the asset is trending within a bullish breakout pattern as TRX prices oscillate within a 1 cent range with caps at 2.1 cents and 3.1 cents on the upside. Currently, prices are ranging at around the breakout level at 2.5 cents, which is neutral but bullish.
However, it is after there is a sharp move above Apr-30 highs confirming the double-bar bullish reversal pattern ofApr-25-26 that traders can begin loading up with tight stops at Apr-30 lows and targets at 3.1 cents. However, for trend continuation, prices must close above the consolidation at 3.1 cents as buyers of late Dec 2018 flow back.
Technical Indicator
As aforementioned, Tron (TRX) is flat, trading at 2.5 cents. Even so, buyers are in control as long as prices are above 2.1 cents or Jan-14 lows. Accompanying the next wave towards 3.1 cents must be high volumes exceeding 13 million of Apr-25 as laid out in our last TRX/USD trade plan. Conversely, losses below 2.1 cents must be with equally high volumes.
Chart courtesy of Trading View